Driver Desires
Did you know there are 1.2 billion vehicles on the world's roads and you drivers make up for the majority of our consumer target market and so we need to be able to speak to you. Dividing out targets is key in resonating and engaging for the long-term and we know what you want global drivers!
But apparently exciting car merchandise accessories have moved away from fluffy dice and instead into the tech sphere!
Over the past 10 years, consumer technology has revolutionised. Technology is in our pocket and with us 24/7. Smartphone technology is our everyday and the drivers of the world are going to love what new technologies are being developed that cover off our need for tech but also our need to be conscious of our environment.
Automotive Trends – Tech and the Environment
Automotive developments are going to be about:
Electrification
Driver-less driving – or 'autonomous' driving!
…And Connectivity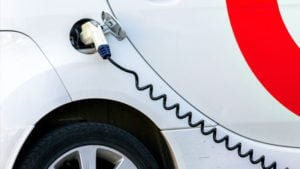 Tesla has led the way on electric vehicles and the global need to reduce greenhouse gases will make electric motoring the norm within 15 years' its predicted.  Robotic cars are also part of that new wave and vehicles that can navigate their environments without human input, are not far away. As part of this, connectivity is key, and as we all already know your car can be your WiFi hub.
Automotive companies and those associated with motoring will be developing technological accessories centred around smart devices for smart motorists. These will provide us with opportunities to promote brands in a much more relevant way.
This merchandise is already under development and for the team here at Prominate this gives us more opportunities to develop effective promotional material that is at the heart of innovation and can provide a better chance of high impression value & therefore ROI for our clients.
So drivers, we've got you covered. It's going to be about technology, connectivity, electrification, driver-less driving and in all of this … going green!