Many of our 100+ offices across the globe participate in local charitable activities, however, this year was the first time we worked on a global charity together. Supporting one cause and working together to spread the awareness and great work of a brilliant global charity, Movember.
Movember is a great foundation that helps fund many trials for men's cancer and aid the support of men's mental health, all of which is not widely spoken about. This charity has positively worked on improving global awareness of the challenges that many face, and how these challenges can be supported.
Movember is predominantly known for encouraging its supporters to grow a moustache (and beard if you're feeling brave) during the month of November, but it can also be any activity that you feel would raise awareness and generate sponsorship.
Prominate participants across the globe literally did just that, anything that they felt that they would enjoy, whilst being able to raise awareness and funds. Activities carried out by our teams ranged from climbing mountains in Brazil, selling moustaches at the local markets in Mexico, growing moustaches in all locations including Australia and Singapore, to cycling relentlessly for 2 days in the middle of wilderness in the UK, to name a few.
As we all shared our activities on our dedicated Prominate Global Movember page, it provided the opportunity to keep track of everyone's progress, view some rather humorous photos, which really made us feel that even though we were all miles apart, we were very much in this together as one.
We all enjoyed it so much and have developed a real appetite to participate in more global charitable activities in the near future, as everyone at Prominate believes in going that extra mile by doing our bit together to help create a better future for all.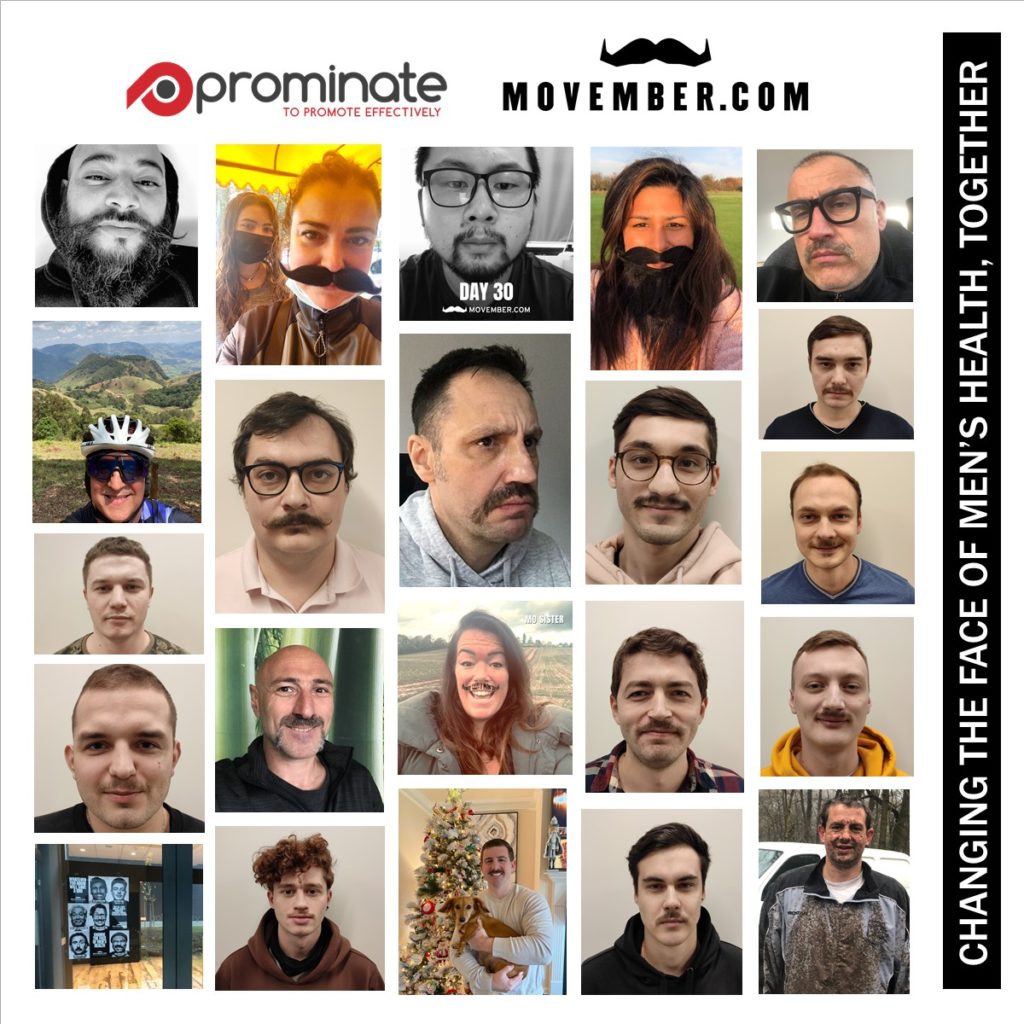 Below are some of the Prominate participant's experiences:
Incredible feeling and sense of self-achievement both in completing the challenge, but also knowing that you are helping others at the same time. – Matt Tuck, Global
This is my first year taking part in Movember, when I heard about it I thought how fun to join my fellow colleagues around the globe with weekly updates of a challenge to grow the best mustache. What I did not know is what Movember was truly about, as I hope it did for others it brought awareness to me of what Movember's global initiative is. – Dylan Ramsey, USA
Movember was, and continues to be, a unique and innovative fundraising and awareness campaign for men's health, originating at a time when men's health was rarely spoken about. Movember put men's physical and mental health front and center and continues to lead the way in education and fundraising. – Michael Kranz, Australia
One of my favourite walks was with my niece and nephew on day 10, I told them all about what I was doing and why. Spreading awareness to everyone. – Christina Makin, Global
The decision to get involved among the staff was mixed, but many soon came onboard. Some enjoyed it that much that they kept their mo! This practice in Russia is new so it gave us the chance to really spread the awareness of this charity, we look forward to next year! – Ulvi Aliev, Russia
It was a great way to force me to go for a walk straight after walk. On weekends I used it as an opportunity to explore nature parks to do my Movember challenge. Telling people about what amazing work this foundation does was the best part. – Priya Pancholi, Global
Cycling through the highlands in Brazil was both beautiful and challenging. My body did ask me why I was doing this to myself, but it is for such an amazing cause, that we pulled through! What an adventure, we look forward to next time. – Henry, Brazil